Our Top 10 picks in Chapel Hill
#1: Franklin St.
Grab a drink, a bite to eat, and see a show all in one place. Franklin St. has become a rite of passage for every UNC student. With historic stores such as Sutton's Drug, the quirky Shrunken Head Boutique and the ever expanding reach of the University, Franklin St will continue to cater to UNC fan in all of us.
#2: Carolina Basket Ball Museum & Dean Smith Center
If you have ever wanted to relive the history of UNC basketball this is the place to go. Many artifacts, videos, photos, statistical and historical panels, highlight the history of the Carolina Basketball. What about watching greats Michael Jordan bringing home a national championship. Catch a game during the winter months and you can tell your friends I saw a game where legends have played.
#3: Ackland Art Museum
Covering many departments of UNC Ackland houses a diverse collection of paintings, sculptures, and drawings from Eastern, African, and Western traditions. Definitely a great stop for the family.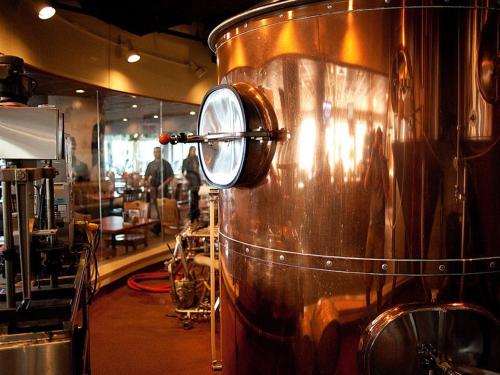 #4: Top of the Hill
Whether you live in Chapel Hill, are just visiting or are here to connect to your college roots, Top of the Hill–or TOPO as we have come to call it–is a destination spot. With a great menu, acclaimed beer collection, in house brewery, and panoramic view of downtown, this is a stop on Franklin St you don't want to miss.
#5: Carolina Performing Arts Center
If you want to catch a great show, we can always recommend a show at the Memorial Hall. From Top co medians, to Broadway musicals, we highly recommend checking out this jewel located right at the heart of the University.
#6: Southern Season
There are many grocery stores in the US, but few can say they are one of the top 10 grocery stores in the country. Catering to all things in North Carolina, this is by far one of the places you have to visit when you come to Chapel Hill.
#7: Merritt's
Open since 1929, Merritt's Store and Grill is an institution in Chapel Hill. With possibly the biggest BLT's in the US, this is a historic site you don't want to pass up on your visit to Chapel Hill.
#8: Botanical Gardens
Known as the crown jewel of UNC, it is renowned for its landscape design and the quality of horticulture. With a clear goal for nature conservation, it's a place you don't want to miss out on.
#9: Cat's Cradle
Located less than a mile from UNC campus in downtown Carrboro, The Cat's Cradle has better one of th top local music venues for over 40 years. Nirvana, Public Enemy and John Mayer are just a few of the names to have graced the stage here.
#10: Morehead Planetarium
The largest full dome planetarium in the southeastern United States, reaches more than 150,000 visitors each year with its science programs. In addition to its Full dome Theater, the center includes several exhibits and the Science Stage, where visitors participate in live science demonstrations.